Best Portable Speakers Under 2000 Rs in India: Portable Bluetooth speakers have become omnipresent as the years have gone by due to the improvements in technology. The best portable speakers under 2000 are also usually easily portable and can be taken along with you during trips, hikes, and treks. These speakers can usually fit inside backpacks and even some purses, meaning you don't have to allocate a large portion of space for them in your luggage. Some of the key things to look for in the best portable speakers below 2000 in India are sound quality, battery life, and portability factor.
While these speakers may not pack the required punch to entertain a party, they are good enough for a small group and casual listening. Presently, there are numerous options in the market for portable Bluetooth speakers that function well without breaking the bank. In this list, we will pick the best portable speakers between 1000 to 2000 for your next purchase.
1. BLAUPUNKT BT-52
Possibly one of the best sounding wireless speakers in this price range, the Blaupunkt BT-52 Bluetooth speaker comes with dual passive radiators that enhance the loudness and clarity of the sound. The speaker delivers 10W output and has decent wireless connectivity with Bluetooth 4.2. It also comes with a battery life of 7 hours, which is pretty decent for its size. The speaker also comes equipped with a built-in microphone that one can use to make phone calls.
It also has a pretty sturdy build that can easily take a tumble or two while still being compact and lightweight. Aside from wireless Bluetooth connectivity, you can also simply connect the speaker to your phone using an AUX cable. The speaker also supports music playback via microSD card up to 32GB or FM. The company claims that the speaker is scratch-proof and dust-proof, making it an ideal device for the outdoors.
SPECIFICATION
Playback Time
:
NA
Frequency Range
:
NA
Channels
:
NA
Dimensions
:
18.5 x 5.9 x 9
| | | |
| --- | --- | --- |
| | Available | ₹ 1599 |
| | Available | ₹ 1599 |
2. BOAT STONE SPINX 2.0
The boAt Stone SpinX 2.0 is available at Rs 1,999 on the boAt website. It features a cylindrical design which makes it easier to carry. It is also IPX6 certified, so it should have no issues with a little bit of rain. Alongside water resistance, the speaker is said to offer shock resistance as well. The boAt Stone SpinX is made of ABS plastic and a fabric grill. The speaker houses two 40mm dynamic drivers and a bass radiator for energetic and thumpy music with a 360-degree sound effect. It packs a 2,200mAh battery that provides up to 8 hours of playtime. It also comes with a screw mount so that you can attach the speaker on surfaces such as a cycle to listen to music on the go. Another feature is the TWS feature where you can connect two Stone SpinX 2.0 speakers for stereo sound.
SPECIFICATION
Playback Time
:
NA
Frequency Range
:
NA
Channels
:
NA
Dimensions
:
16.5 x 6.8 x 6.7
| | | |
| --- | --- | --- |
| | Available | ₹ 1999 |
| | Available | ₹ 2499 |
3. INFINITY FUZE 100 BY HARMAN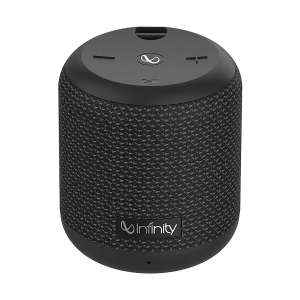 A subsidiary of Harman Audio, Infinity is a player in the budget audio products segment. The Infinity Fuze 100 is a great entry-level wireless speaker that delivers bass-boosted sound output, with its Deep Bass EQ mode, which can be turned off when you want less of the bass by activating Normal EQ mode. The speakers are also rated IPX7 and come equipped with voice assistant support.
Users can also pair two Infinity Fuse 100 speakers with the Dual Speaker Connect Technology for a stereo effect. The speaker has a rugged and durable build that is dust-resistant and will easily be able to survive a few drops. It comes with up to 9 hours of continuous playback time. Overall, while the speaker won't get very loud, it is a basic, utilitarian wireless speaker with quite a few features, making it a value for money purchase under Rs 2000.
SPECIFICATION
Playback Time
:
NA
Frequency Range
:
NA
Channels
:
NA
Dimensions
:
8.2 x 8.2 x 9
| | | |
| --- | --- | --- |
| | Available | ₹ 1499 |
4. SONY SRS XB-01
Carrying Sony's XB (Extra Bass) moniker, the Sony SRS XB-01 is available for under Rs 2,000 on Flipkart. It is an extremely compact speaker that comes equipped with IPX5 water resistance and a built-in microphone for calling. It also features a decent battery life of 6 hours with a charging time of 3.5 hours.
The speaker comes in a wide range of colors including unconventional ones such as lime yellow and green. The device is powered by Bluetooth v4.2 and has a wireless range of 33 feet. You also get controls on the speaker to change music tracks, control volume, and more. The compact speaker also comes with a strap for easy portability.
SPECIFICATION
Playback Time
:
6 hrs
Frequency Range
:
20 – 20000 Hz
Channels
:
NA
Dimensions
:
12 x 10 x 10
| | | |
| --- | --- | --- |
| | Available | ₹ 1799 |
5. BOAT STONE 650
Priced at Rs 1,799, the boAt Stone 650 is a popular Bluetooth speaker from the company that features two drivers and delivers 10W of output. The speaker comes with Bluetooth v4.2 connectivity and can also play music via AUX cable. It houses a 1,800mAh battery that provides up to 7 hours of playtime, which is not too shabby at this price. The speaker has an IPX5 rating so it can easily shrug off splashes of water.
It comes with a diamond-shaped mesh design with a smooth silicone finish that makes it feel good in the hand. Additionally, it houses a few buttons that allow users to control volume, pause or play music, skip tracks, and more. Moreover, it also has a built-in microphone that can be used to make phone calls. Its cylindrical design means that it is not the most compact speaker on this list, but you can still fit it easily in backpacks.
SPECIFICATION
Playback Time
:
NA
Frequency Range
:
NA
Channels
:
NA
Dimensions
:
‎7 x 7 x 19.1
| | | |
| --- | --- | --- |
| | Available | ₹ 1999 |

List Of Best Portable Speakers Under 2000 Rs In India
| Product Name | Seller | Price |
| --- | --- | --- |
| Blaupunkt BT-52 | Tatacliq | ₹1599 |
| boAt Stone SpinX 2.0 | amazon | ₹1999 |
| Infinity Fuze 100 by Harman | amazon | ₹1499 |
| Sony SRS XB-01 | Flipkart | ₹1799 |
| boAt Stone 650 | amazon | ₹1999 |